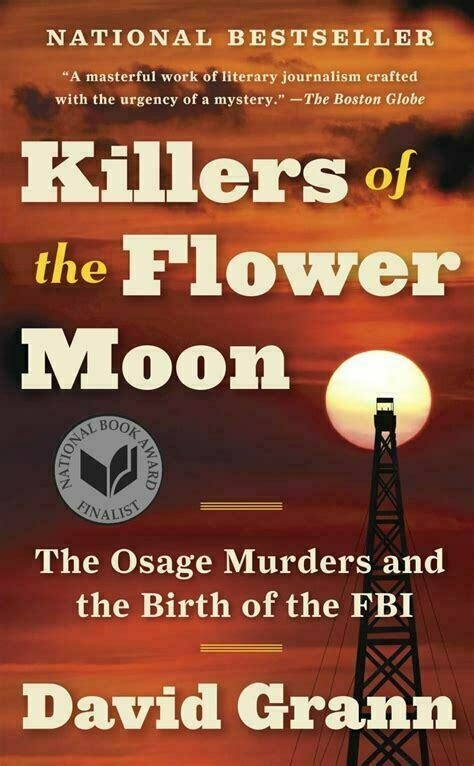 The Non-fiction book Killers of the Flower Moon by David Grann starts with the story of Mollie Burkhart and the brutal murders of her family. Mollie was an Osage Indian and in a weird twist of fate the Osage who were removed from their land and placed on a reservation struck lucky when oil was found there. Luckily the Osage Indians with head rights to the oil suddenly became unbelievably wealthy, or maybe it wasn't so lucky after all. In the mid 1920's they were being murdered, shot, poisoned, blown up. Perhaps the richest group of people on the planet were also the most hunted. Mollies two sisters and her mother were murdered. A real life murder mystery and thriller rolled into one. What was going on and how was it nobody had been caught?
The story moves on to J.Edgar Hoover and the formation of the FBI. Hoover sent in a former Texas Ranger Tom White to lead an investigation into the murders. They found their man and the brief fame of the case contributed to the founding of the FBI. The case stands at the crossroads between the american frontier and modern america in many ways. After the case faded from the public imagination and because of the dwindling oil reserves this episode in history was largely forgotten.
The third part of the book is maybe the most hard hitting. From the wiki article I found this quote which sums it up nicely
There is a kick-in-the guts half-twist at the end of the book that gives the work its moral heft and reminds the American people of the great cost of their nationhood. It's a twist that owes everything to Grann's diligence and intelligence as a journalist. It could not have been discovered without what he calls his "research odyssey". - David Aaronovich
Grann talks to the relatives in the case and assembles his evidence. The terrible facts of the murder case have perhaps obscured a deeper and uglier truth, that of the murder and subjugation of the whole Osage nation. Perhaps hundreds of other murders were never solved, or even investigated. Grann shines a light on the venal greed of the so called civilised, leaving a deep impression. A must read. 📚★★★★★
Also I know a Scorsese film is coming this year based on the book. I am greatly looking forward to it. In the mean time you can watch this interview of the author.