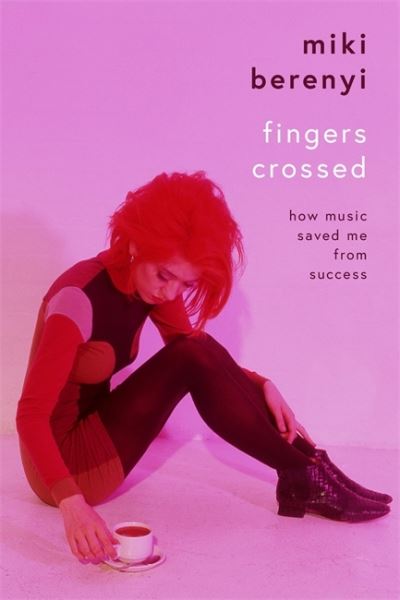 Madchester, Shoegaze and Grunge were a few of the scenes that I was introduced to in my first couple of years at college when I first left home at the beginning of the nineties. Bands like Ride, Happy Mondays, Cocteau Twins, The Fall, Pavement, Nirvana and of course Lush. At that time of life it's often through music that you identify yourself and so those bands will always have a special feeling for me, everyone has their own band hiastory maybe.
Now some thirty years later Miki Berenyi the lead singer from Lush has an autobiography out Fingers Crossed: How Music Saved Me from Success, and it really is an involving, agoninzing and engaging read.
The book is split into two parts, Miki's childhood growing up in London and then her time wtih the band Lush. Certainly there is a hell of a story to tell. Her upbringing is really unusual and at many points quite harrowing. This is all told delicately and with great skill, the worst of it is not really highlighted but it's all there, involving but not showy, better and more involving writing than most biographies.
The second part of the book covering the band years is also fascinating and a knowledge of the bands is not necessary, Miki's story is enough. The bad behaviour, sexism and hedonism is a timeless trope but it's written about calmy and Miki doesn't spare herself.
For my part I think Lush were underrated at the time and their melodies and lyrics are better and more intereting than most of their contemporaries. After reading the book forinsance I went back to their back catalogue. The lyrics from Light From a Dead Star especially hit hard…. It was all there in the lyrics for anyone to see all this time.
Overall it is a fantastic book that I loved and that I would recommend to anyone regardless of their own band history! 📚★★★★★
Lyrics from Light From A Dead Star
He lives his life in a world
Full of women and he takes
What he wants from their love
And he throws the rest away
I cling to him and pray
But still, he slips away
And now it's just too late
To wish him back again
She won't put up with this life
So she leaves him and she finds
Someone else, falls in love
And she travels far away
I say that it's okay
And swallow all my pain
And now it's just too late
To wish her back again
They left me here on my own
In a nightmare and I just
Can't forgive any more
So I smile and I turn away
Don't listen when they say
They wish that I could stay
And now it's just too late
To wish me back again -Miki Berenyi