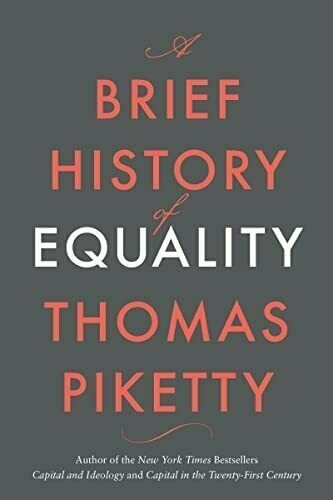 With A Brief History of Equality Thomas Piketty's new book brings his views on economics to the public as clearly and concisely as he can. At only 277 pages versus his last book Capitol and Ideology which was 1100 pages he really has made every effort to make this as readable as possible.
It is meant to be read not just prop up a coffee table and throughout I found it easy to read and engaging. So if you thought about taking the plunge with Piketty before well this is probably the one too start with for most of us. Piketty begins with clear intentions.
This book offers a comparative history of inequalities among social classes in human societies. Or rather, it offers a history of equality, because, as we shall see, there has been a long-term movement over the course of history toward more social, economic, and political equality.
He follows through on this for the most part, with a clearly stated ambition and detailed research which he uses well enough to illustrate his points without letting the main text to get bogged down in the detail.
Along the way he deals with the key reason we are where we are today by looking back at the last 300 years of economic history.
We might classify these under a few different headings or keywords of which I have brought out a few which I think cover much of what he talks about;
Slavery and Colonisation.
Property Rights.
Education.
The Liberal economic model.
Redistribution.
So he clearly sets out the history of inequality, how and why it arose, and slow diminishing over the last 300 years. But now we are at a possible inflection point and inequality has lately been rising again.
He proposes a set of economic tools to get us back on track as it were. To address the problems that are glaringly obvious to all at the moment. It's a welcome relief from the cheap nationalism in much Western dialogue about economics.
In this book, I have defended the possibility of a democratic and federal socialism, decentralized and participatory, ecological and multicultural, based on the extension of the welfare state and progressive taxation, power-sharing in business enterprises, postcolonial reparations, the battle against discrimination, educational equality, the carbon card, the gradual decommodification of the economy, guaranteed employment and an inheritance for all, the drastic reduction of monetary inequalities, and finally, an electoral and media system that cannot be controlled by money
I hope it is read and debated fairly. I recommend it to anyone looking to make sense of the economic forces which all buffer us but we often are unaware of and in that sense whether you ultimately agree with Piketty or not it is well worth a read.
📚★★★★