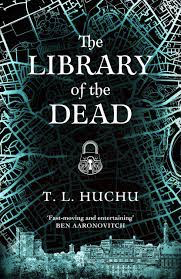 Ropa is a ghostalker a young teenage dropout with a Zimbabwean background growing up in Edinburgh. She talks to the dead taking messages back and forth for them. Soon she is caught up in a strange case of child kidnapping.
T.L Huchu creates an Edinburgh perhaps in the near future definitely in a parallel world where magic exists and society as we know it has partially collapsed. A world which gives him a great chance of writing a gripping fantasy adventure series. The Edinburgh we know is partially regressed. The Nor Loch is back and the city is broken down, more mavelovent and more interesting as a result. Slums and high society mix and overlap as do this world and the next.
His imaginative descriptions of this new Edinburgh are wonderful, I particularly loved his description of Waverley stations roof under the water. Magic is also reimagined given a history linking it back to the enlightenment, to Scotland and Edinburghs history a lovely inventive twist which feels like it fits. So as someone born and bred in Edinburgh I really love the world Huchu has created.
Ropa's adventures definitely bring to mind Harry Potter but Ropa is a bit more hard boiled than at least the early Potter books. A book like this needs a plot that pulls you through with anticipation and I am happy to say it did this with a wider arc hinted at also by the end.
I loved this book and would recommend and especially to anyone familiar with Edinburgh they will see a new and original twist to the city and some great adventures. 📚★★★★